Lodgings: Use Your Nearby Attractions To Sell Reservations For You!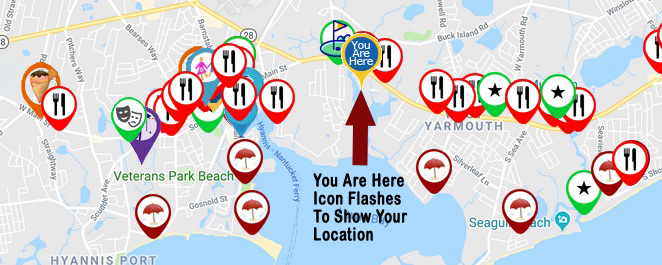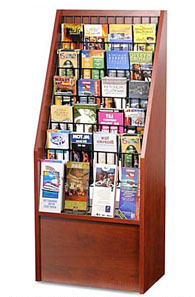 Put All This On Your Website! No Other Lodgings Appear! Distance And Directions!

Pricing: Free – or upgrade to the "Host" version for $50 per year. The Host version provides a flag above up to 20 (total) attractions, restaurants, shops, etc., that you recommend to your viewers. These recommendations are yours alone. This personalizes your Navigator to your viewers and guests.
The Nearby Navigator is sells more reservations by letting your attractions work for you, instead of you just working for them. The Nearby Navigator is free, or get extra features for a small amount.

1. A blinking "You Are Here" marker identifies you as the beginning point.
2. Distance and directions are from your location.
3. You can keep your existing attractions page and add the Navigator map. We will install it or provide instructions.
4. Guests use it before and during their stay. They plan and save a personal vacation itinerary.
5. Boosts your search engine position by holding viewers on your site longer and adding links.
6. We will add additional businesses that you want to appear. Just send us the name and town.
7. Touch-less For COVID-19 protection.
8. Are you a "green", environmentally aware lodging? Please read below.
Are you a "green" lodging? Please read this. 1 billion trees worth of paper are thrown away in the U.S. every year, adding methane to the atmosphere, despite recycling. Naturally this includes tourism brochures and maps. You can now provide this visitor information digitally. The Nearby Navigator is environmentally responsible. We are digitizing millions of pieces of paper.
Here Are Live Examples
Visitors Are Using It Right Now! One lodging had 460 Navigator views last July alone!
Upgrade your attractions to to technology. Just send this form. We'll do the rest. 
Just submit the form below and we will contact you. We will add the Nearby Navigator on your website for free, or send instructions to your web designer. We also have marketing tools we will send you to inform your guests about the Nearby Navigator. The "Host" version is just a $95 per year maintenance fee, or choose the free version. No money is due with the submission of this form. You will love this attractions upgrade!

The "Host" Edition – just $95 per year. Customize your attractions and communicate with your viewers.
Nearby Navigator is a service of Tourist Marketing Services. We have been promoting tourism for lodgings and visitor attractions since 1984. We were photographing lodgings before the digital camera, and creating brochures before the Internet. Today we continue with top level professional lodging and tourism photography, virtual tours, websites, brochures and other tourism based marketing services. You can see a very incomplete list of our present and past clients here.